Mrs. Tefft named April 2022 Golden Apple award recipient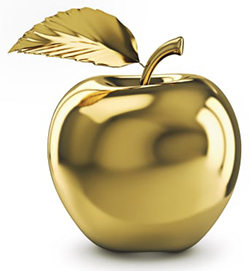 ---
Mrs. Tefft, Smoketree 4th grade teacher, received The Golden Apple Award for April 2022.
The K12 Foundation shared the following comments submitted by her peers:
Kellie is consistently going out of her way for each and every one of her students. She is kind and builds a relationship with every student. She knows her students well and does her best to always exceed their needs. She mentors others, has taken on several leadership roles for our school, and is an amazing teacher to her students.
Kellie has taken on leadership responsibilities at Smoketree, including, Summer School Coordinator and the Afterschool Tutoring Site Director. She has a passion for reaching all of her students, is a wonderful colleague and is always ready to assist anyone in need.
Kellie has given so much of her passion, energy, and time to Smoketree students. She is always seen in her classroom well after the school bell rings and kids are out of school for the day. Kellie has taken on leadership roles with ease. She often has provided professional development to the Smoketree staff as well. Kellie has been very involved with our PBIS program for many years; she not only" talks the talk" but she is an excellent role model as she also "walks the walk." Kellie is often seen with a smile on her face and demonstrates a positive attitude to both staff and students. Kellie exemplifies high standards for teaching our students and is deserving of the Sherry Dailey Golden Apple Award.
Mrs. Tefft is an amazing educator. She currently teaches 4th grade at Smoketree Elementary School. I have had the pleasure of working with Mrs. Tefft for several years. This year we are working together to provide inclusion support to 4th graders. Mrs. Tefft has taken a leadership role in our new service model for special education. She has been a mentor to me as we developed our co-teaching model. Mrs. Tefft recognizes each child's individuality and is able to differentiate the general education curriculum in order to support student learning. Mrs. Tefft is a master at reaching those struggling students and providing them with a safe environment to learn as is demonstrated by the growth each student has made over the year. Mrs. Tefft's students love her because she purposefully addresses their needs and develops sincere relationships with each student. She is genuine and optimistic with students, their families, and staff. Mrs. Tefft is an excellent educator that has had a positive impact on so many lives. Her ability to inspire and motivate students and her peers is recognized school-wide. Mrs. Tefft is well deserving of the honor of the Golden Apple.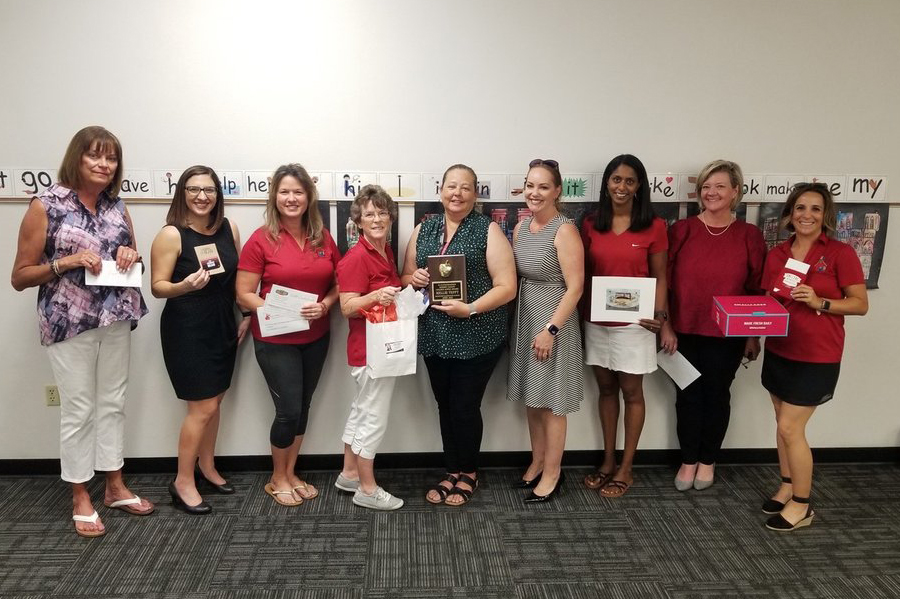 Pictured from left to right: Cinda Ross from Alex Ross State Farm Insurance; K-12 Foundation Board Members, Jaime Festa-Daigle, Amy Sugamele, and Monica Hall; recipient Kellie Tefft, Nina Mersing, Smoketree Elementary School Principal; K-12 Foundation Board Members, Shimali Premaratne, Christie Olsen and Stephanie Martin.