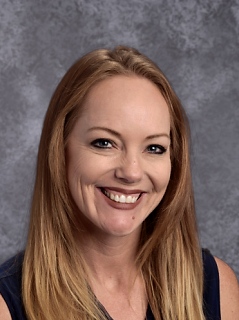 Mrs. Nina Mersing
Interim Principal
Dear Parents, Guardians, and Caregivers,
Welcome Back!
I know that this last part of the year was challenging for you as parents and guardians as you navigated the pandemic as it related to careers, childcare, staying healthy, and the overall safety of your family. I could not be more proud of our faculty, staff, community, and our parents for standing side-by-side and finishing out the year at Smoketree, together and strong.
This experience no doubt changed how we look at the importance of education. One of the things we learned is how much we missed seeing our students every day in our classrooms.
We are very much looking forward to watching our students return and our hallways filled with the hustle and bustle that has been absent since March.
A considerable amount of planning, construction, and hard work has gone into the preparation at our site to ensure our student's safety and well-being when we return to in-class learning.
Please know that we value communication and will use every opportunity to keep you informed.
It is critical in these times we have the latest, up to date contact information to connect with you in regards to the well-being of your child and their education. Please notify our office of any changes or updates.
Our faculty and highly qualified staff are committed to helping our students prepare for a successful future.
At the beginning of the school year, I will be taking a leave of absence. In my place will be Nina Mersing.
She will be acting as Interim Principal during this time. Mrs. Mersing and I will be in constant communication. Our shared goal is to provide an outstanding education to our students.
Therefore, on behalf of our staff, it is my extreme pleasure to welcome you back to the excitement and energy at Smoketree School as we begin the much-anticipated journey into the 2020-2021 school year.
Together, we will make a difference in our students' futures and lives.
Sincerely,
Mrs. Connie Hogard
Principal
Smoketree Elementary School
Greetings,
It is an honor and a pleasure to welcome our parents, guardians, and community members to the 2020-21 school year. My name is Nina Mersing, and I am excited to serve as Smoketree's Interim principal for this upcoming year. Our administrators, teachers and staff members have been busy getting ready for a new school year as we continue to raise the bar on our quest for academic excellence.
I have worked for Lake Havasu Unified School District for 14 years as a teacher and a mentor. I earned my bachelor's degree in education in 2007 from Northern Arizona University. In 2017, I became Nationally Board Certified. I completed my Master's in Educational Leadership from Grand Canyon University in 2019, and I am currently completing a second Master's in Special Education through Western Governors University.

For many of us, the last several months have certainly been among the most unique and challenging of all of our lives. It seems most everything has changed. I wholeheartedly believe that there couldn't be a more capable and dedicated team of educators and support staff who are committed to doing everything that needs to be done to make our 2020-21 school year as safe, efficient and productive as humanly possible. ​
As we journey into the new school year, please feel free to contact me should you have any questions or concerns.
Thank you for your support and partnership,

Nina Mersing, NBCT
Interim Principal
Smoketree Elementary